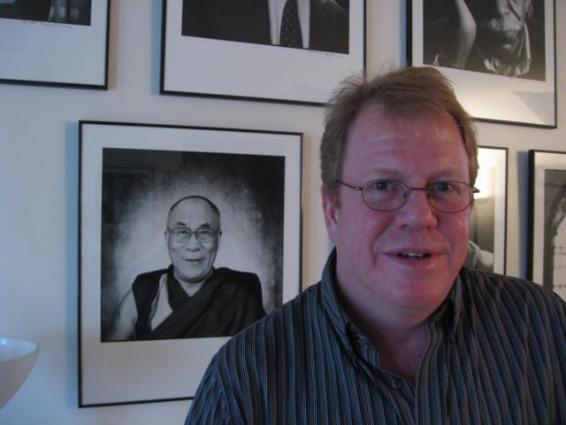 Source:: StarTribune
Date:: January 7, 2012 - 5:30 PM
Writer:: Curt Brown

A local photographer has collected portraits of 20 Nobel Peace Prize laureates, and he's far from finished.
Some folks collect baseball cards, tiny spoons or fishing lures. Then there's Doug Knutson, a mild-mannered photographer entering his 33rd year patiently racking up a unique collection of his own.
If all goes well, Knutson will grab a few moments backstage at Augsburg College in March with Frederik Willem de Klerk, the 75-year-old former South African president who oversaw the dismantling of apartheid with Nelson Mandela.
They'll exchange small talk, de Klerk will sit down, smile and -- click -- Knutson will have captured a portrait of his 21st Nobel Peace Prize laureate.
From Knutson's Minneapolis condo wall, Polish union activist Lech Walesa, Archbishop Desmond Tutu and the Dalai Lama look down, stark and colorless.
"Black and white seems more timeless to me," Knutson says. "These are the most accomplished people in the world with the most distinguished prize. I almost stumbled into in the beginning, but I've gotten more aggressive pursuing these opportunities."
Knutson grew up in Burnsville, the son of the late state Sen. Howard Knutson. He learned to develop film at Sioux Trail Elementary School and headed to Luther College in Iowa, where he quickly "realized how broke I was."
So he landed a student photographer job, clicking promotional shots. Famed agriculture guru Norman Borlaug, the 1970 Nobel laureate, was a visiting lecturer in 1979, and Knutson's collection was underway.
Never mind the paparazzi. This guy is a one-man peaceprizerazzi when he's not paying the bills shooting advertising campaigns, annual reports and freelancing for magazines.
From landmine activist Jody Williams to Liberian President Ellen Johnson Sirleaf to Holocaust writer Elie Wiesel, they've all sat for Knutson's portraits, which can be viewed at nobelpeaceportraits.com.
Presidents Barack Obama and Jimmy Carter are the only two he has snapped in the field rather than during formal sittings. Mostly, he works lecture series, setting things up with advance staffers and working his low-key charm. When Tutu came to town in 1998, handlers switched the room on him at the last minute.
"I was ticked, but we wound up in a room with stained glass windows that looked liked angel wings," he says.
Knutson brought along some portraits of Tutu's daughter, Naomi, whom he'd shot in conjunction with an earlier speech. Some were serious and others were goofy, with her eyes crossed and tongue out. Tutu and his wife laughed and rolled their eyes and joked about "whose daughter is that?" The mood was lightened.
Click.
"I love those brief interactions," he says.
After de Klerk, his sights are set on former U.N. leader Kofi Annan, Mandela and Soviet leader Mikhail Gorbachev.
"I'd love to get those three," he says. "But they're getting up there in age."
CURT BROWN
Link to article on StarTribune website.
---
Luther Alumni Magazine Fall 1995.